MAALAEA ACTIVITIES
Boat Trips, Aquarium, Zipline, and more!
While Maalaea is often overlooked as a full-day destination, there's actually a ton of wonderful activities and attractions worth exploring. From departing on one of Maui's best boat tours to seeing Hawaiian Green Sea Turtles up close and personal, there's plenty of fun to be had for every member of your group.
Some of our favorite Maalaea activities include:
Hula, Hawaiian Music, Luau Feast & Fire Dancing
At the top of our list are luaus.  Why?  Attending a Maui luau gives you so much in one event:  delicious Hawaiian food, graceful hula dancing, history and legend from the told in story by a local Hawaiian expert, beautiful island music while sipping on tropical drinks and watching the sunset over the ocean.  Not sure it gets better than that.  But it does!  The best luau shows have fire-knife dancers to finish things off.  VERY IMPRESSIVE! (And on that note, we suggest only going to a show that offers fire dancing.)  It's perfect for newlywed couples as well as for families with kids.  We personally go to 4-5 shows every year, and we live here.  That says something.
Reserve your seats for the best Maui luaus.

Snorkeling, Scuba Diving & SNUBA at Molokini Crater
Departing daily from Maalaea Harbor, snorkel boats are perfect for travelers looking to explore some of Maui's best snorkeling and scuba diving destinations, including Molokini Crater and South Maui's Turtle Town. Whether you want to snorkel, scuba dive, or give SNUBA a try, they offer options for every preference. Their most popular morning tours usually include snorkeling at Molokini and Turtle Town (with optional scuba and snuba), all necessary gear, complimentary BBQ and lunch, fully stocked open bar, impeccable service, spacious boat decks, top safety standards, and optional underwater photo and video services. Highly recommended for all ages!

Whale Watching
From December 15th to April 15th, Maui is one of the best places in the world to whale watch! Maui whale watching tours offer daily whale watching tours from Maalaea Harbor aboard their comfortable catamarans, offering perfect views for a fun day on the water with friends and family. Their staff of expert naturalists share valuable information about the most popular humpback whale behaviors, and even have hydrophones on board to allow guests to hear as the males sing underwater! Tours include breakfast and lunch, cocktails, sodas, and water, and they limit tour sizes to only 40 people for better viewing purposes.
Another whale watch excursion worth mentioning is hosted by Island Star. They host small group whale watch tours aboard a speedy 57-foot sailing yacht. Whales tend to come much closer to smaller vessels than larger ones, and with only several other passengers on board, each seat is the best seat in the house. Whales have been known to come just feet from passengers aboard this tour! Island Star's tours depart from Maalaea Harbor, a 20-minute drive from Lahaina.
Or experience the thrill of whale watching in South Maui with minimal travel time (from Kihei Boat Ramp). With Redline Rafting, you'll have more opportunities to observe these majestic creatures, capture awesome photos and gain a deeper insight into their behaviors. Their rafting excursions are unmatched in terms of convenience and immersion.
Kai Kanani out of Makena is so sure that you'll get to witness these magnificent creatures in their natural environment, that we offer a guarantee: if you don't get to see the whales, your next journey is on them! Witness first-hand the amazing behaviors of these majestic giants as they breach, slap the water with their tails, sing their mesmerizing songs, and nurture their young in our tranquil ocean waters.

Scenic Discovery Flight
Shoot down Kuihelani highway to Kahului Airport for a unique opportunity to learn how to fly a plane in the skies above Maui. Fly Maui presents a chance for people of all ages to take their first lesson in flight school. Not only does Fly Maui's Discovery Flight experience bring the joy of flying to just about anyone, but it also offers an unforgettable experience of exploring the captivating terrain of the Valley Isle from above. 

The largest and most prestigious aquarium in Hawaii, Maui Ocean Center is an excellent place to learn more about Hawaii's variety of marine life, spend a rainy afternoon with the kids, attend a special talk from one of Hawaii's marine specialists, or even scuba dive in the 750,000-gallon saltwater shark tank! Located in the heart of Maalaea, guests will enjoy seeing special exhibits like the Hawaiian Green Sea Turtle Lagoon, Hammerhead Harbor, Sea Jelly Gallery, Marine Mammal Discovery Center, The Tide Pool, Hawaiians & The Sea, and more. Keep an eye on their events calendar for unique opportunities and tours!

Bottom Fishing
Like the idea of catching your own dinner, or interested in seeing what Maui's marine life has to offer? Head out for a day on the water with the bottom fishing pros at Maui Fun Charters. The 4 hour morning tour aboard the Marjorie Ann or Pamela departs from Maalaea Harbor, and includes personal attention from the crew, as well as an opportunity to try a greater variety of fishing styles, thanks to the small group sizes on each tour. This makes for the perfect family activity, and the views can't be beat! They also use the newest electronics and offer plenty of comfortable seating for all guests.
Book your Maui fishing trip by calling (808) 572-2345.

Flying High at Maui Zipline
Located only a 5 to 10-minute drive from Maalaea Harbor, Maui Zipline is one of our favorite activities in central Maui. Hosting guests anywhere from 5 to 88 years of age, you'll be treated to a 5-line zip tour over some of Maui's prettiest, most stunning areas. Guides are all very patient and safety-conscious, and we especially love that each line is side-by-side, giving you the opportunity to ride alongside your friends and family! Check out the amazing views of the nearby West Maui Mountains and swaying palm trees, tropical grounds, and a sparkling lagoon of Maui Tropical Plantation, as well as distant views of Maui's Haleakala Volcano. Then continue exploring the property, home to The Mill House restaurant, Kumu Farms fruit stand, Tropical Tram Tour, shopping, and more.

Jumping Around
Located just a short drive from Ma'alaea, Maui's new indoor trampoline park is the ultimate way to spend a rainy afternoon with the kiddos or fun weekend outing with friends. The 25,000 foot park is open to all ages, and is separated into zones by age and size for the safest jumping experience. Kama'aina discounts are available, and unlimited jump passes are available for only $25. Guests are encouraged to reserve their spot and fill out the waiver online, as there is a capacity limit. This new Wailuku attraction is popular for all members of the family, and an entertaining workout for everyone!
Learn more about our Maui Trampoline Park by calling (808) 214-JUMP.

One of the newest entertainment crazes in the U.S., escape rooms have landed in Wailuku Town at Mystery Maui. Available for groups of 2 to 6 people, whether it be your coworkers on a special pau hana mission, a fun date night activity, family-friendly outing on a rainy day or thrilling girls night out, you'll use your best detective skills to solve one of two challenging and entertaining mysteries, including the missing chef at The Ramen Shop and Stella Superstar's private pop concert. With under 60 minutes to decode the given clues, you'll work together, along with help from your game marshal, to see how far you can get and escape the room.

RESERVE YOUR ESCAPE ROOM BY CALLING (808) 249-2062.

Combine two memorable Maui tour experiences by embarking on a sunrise mission atop the 10,000 foot summit of Haleakala Volcano, followed by a scenic, self-guided 23-mile downhill bike ride to the north shore town of Haiku. Available for guests 12 and over who are at least 4'10" tall, Bike Maui's Sunrise Special tour embarks from Haiku at 3am, where you'll hop into a tour van for an entertaining – albeit dark – guided drive up to the entrance and summit of Haleakala National Park in time for sunrise. Afterward, you'll be driven back down to 6,500 feet for the second portion of the experience, a self-paced bike ride down the volcanic slopes through Upcountry's most gorgeous areas. Stop for breakfast, and to browse galleries and take plenty of photos, and return with plenty of time left to enjoy a day of fun in the sun.

BOOK YOUR TOUR WITH BIKE MAUI AT (808) 575-9575.

Sunset Dinner & Cocktail Cruise
One of the best budget-friendly evening boat tours on Maui, Quicksilver offers a fun sunset and dinner cruise departing directly from Maalaea Harbor. Cruise along the Pali coast while enjoying spectacular sunset views, and enjoy live music entertainment and dancing aboard their spacious double-decker boat. Tours include table seating, full dinner, tropical cocktails, beer, wine, and epic sunset views, and whale watching during winter months! Children 6 and under are free, and service is always friendly and welcoming.


Private Sailing Charters
Relax on the sea with a sail aboard the 42-foot Nova. Operating directly out of Ma'alaea Harbor, Nova offers private sailing charters, whale watches, custom snorkeling tours, and full day adventures for up to six guests. No matter what adventure you choose, you'll sail with a seasoned crew, explore some of Maui's most secret locales, and take in unique views of the stunning Valley Isle and neighbor islands.


Hiking WEST MAUI
HeleWai Eco-Tours' Honolua Ridgeline Hike takes groups of no more than four people through one of West Maui's remotest and most scenic reserves. Accessible, peaceful, and inspiring, you'll be treated to breathtaking views and introduced to the region's unique flora and fauna. Along the way, one of HeleWai's friendly naturalists will fill you in on Honolua's historical, environmental, and cultural importance. If you'd rather explore Haleakala, check out Humble Tours.
BOOK YOUR HIKE

TRIP BY CALLING (808) 205-6032.

Explore West Maui
From Ma'alaea, make the quick zip across the Pali to Maui's west side, home to the towns of Lahaina, Ka'anapali, Napili, and Kapalua. This side of Maui is studded with acclaimed beaches, great shopping, a spread of dining opportunities, fantastic snorkeling, and cosmopolitan resorts. Head to Front Street in Lahaina and browse the collection of shops and restaurants, snorkel of cliff dive at the famous Ka'anapali Beach, or pamper yourself at the exalted Spa Montage Kapalua Bay.

Visit Upcountry
Upcountry is loaded with hidden gems often missed by visitors eager to stay close to the beach— or the region is simply observed from a car window en route to Haleakala National Park. Upcountry is studded with farms and local eateries and presents a chance to see a unique side of Maui. Start your Upcountry day with a farm tour at Maui Alpaca, where you'll feed and get to know a group of strong-minded yet friendly alpacas (alpaca selfies, anyone?). Next, head to Alii Kula Lavender Farm before stopping at Grandma's Coffee House for lunch. Finally, before heading back down to sea level, grab some cookies from the Maui Cookie Lady then wash them down at Mahalo Aleworks, Upcountry's first and only brewery, known for its 'hyper-local' beers.
See what there's to do at Maui Alpaca.

Take a Helicopter Ride
Despite welcoming millions of visitors each year, some of Maui's most dramatic views often go unseen. From incredible waterfalls in the West Maui Mountains to deep gorges on Haleakala's eastern flank, the best (and only) way to feast your eyes on these isolated areas is via air tour. A handful of helicopter tours depart daily from Kahului Airport, setting off into the West Maui Mountains, East Maui, Molokai, and even Haleakala Crater. For an extensive list of tours at great rates check out Helicopter Tours.

Outrigger Canoe
Outrigger canoes played a fundamental role in Hawaiian history. Yet, visitors have few opportunities to learn about Hawaiian sailing traditions. Serving as the only excursion of its kind on Maui, Maui Sailing Canoe introduces visitors to the ancient practices of paddling, navigating, and outrigger sailing. This two-hour tour gives visitors a glimpse of the way of life in old Hawaii while soaking up beautiful views and stellar snorkeling opportunities off the Wailea coast. This tour departs directly from the sand at Polo Beach, just a 25-minute drive from Maalaea.

Maui Film Festival
Each summer, the Maui Film Festival returns to celebrate filmmakers, original cinema, culinary arts, and the Maui community. Over the course of five days and nights, the Maui Film Festival hosts an array of original film screenings, premiers, foodie festivals, award ceremonies, and so much more! The events take place at several open-air locations around Maui, with a focus on the MACC, located only a short distance from Ma'alaea. Check out the latest Maui Film Festival.

Mini Golfing at Maui Golf and Sports Park
Also located conveniently in Maalaea, Maui Golf & Sports Park is a fun, kid-friendly place to test your adventurous side. Play a round of mini golf, or choose from one of their other onsite activities, including rock climbing, bumper boats, and x-treme bungee trampoline. Open daily from 10 am to 6 pm, this makes for a great midday break (and workout).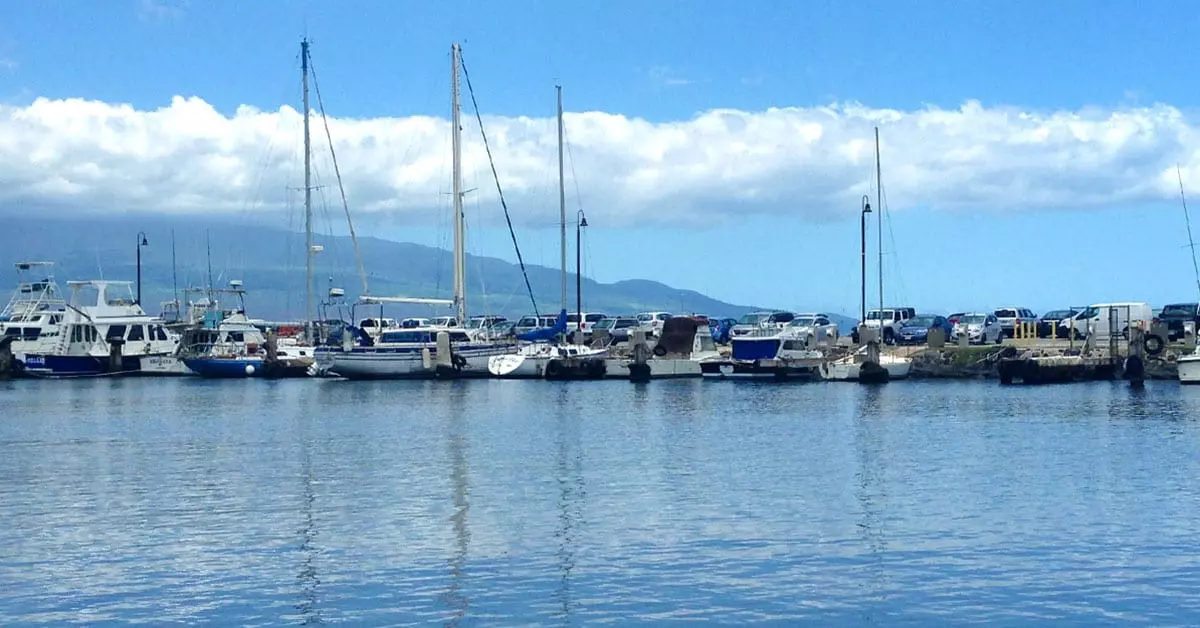 This is a great view of Maalaea Harbor from the Maui Ocean Center. Come back soon to see it LIVE! Maalaea Video In the meantime, check out our aerial video of Maalaea Harbor.
The Center of Things to do in Maui
________________________
"We went to to Molokini for our anniversary. The snorkeling was superb and the crew really fun. We also did a sunset cruise, which turned into a whale watch! It was unreal! So many whales. February apparently is the best time to go. NOTE TO SELF"
Frankie Smits - California
Great Food!
________________________
"We ate at Beach Bums as well as the Oceanside Restaurant. Beach Bums was fun and perfect for hanging with friends with beers. Oceanside was something completely different. Each dish was other worldly! We ate there 4 times in 6 days. SO GOOD!"
Jenny Henderson - Georgia