Perhaps best known as Maui's shopping mecca — and home to the island's international airport — Kahului is often ignored for the Valley Isle's more glamorous destinations.
But spend a day in this sunny central town and you'll understand why it was dubbed Dream City in the 1940s. Here's how to uncover the jewels in Maui's busiest region: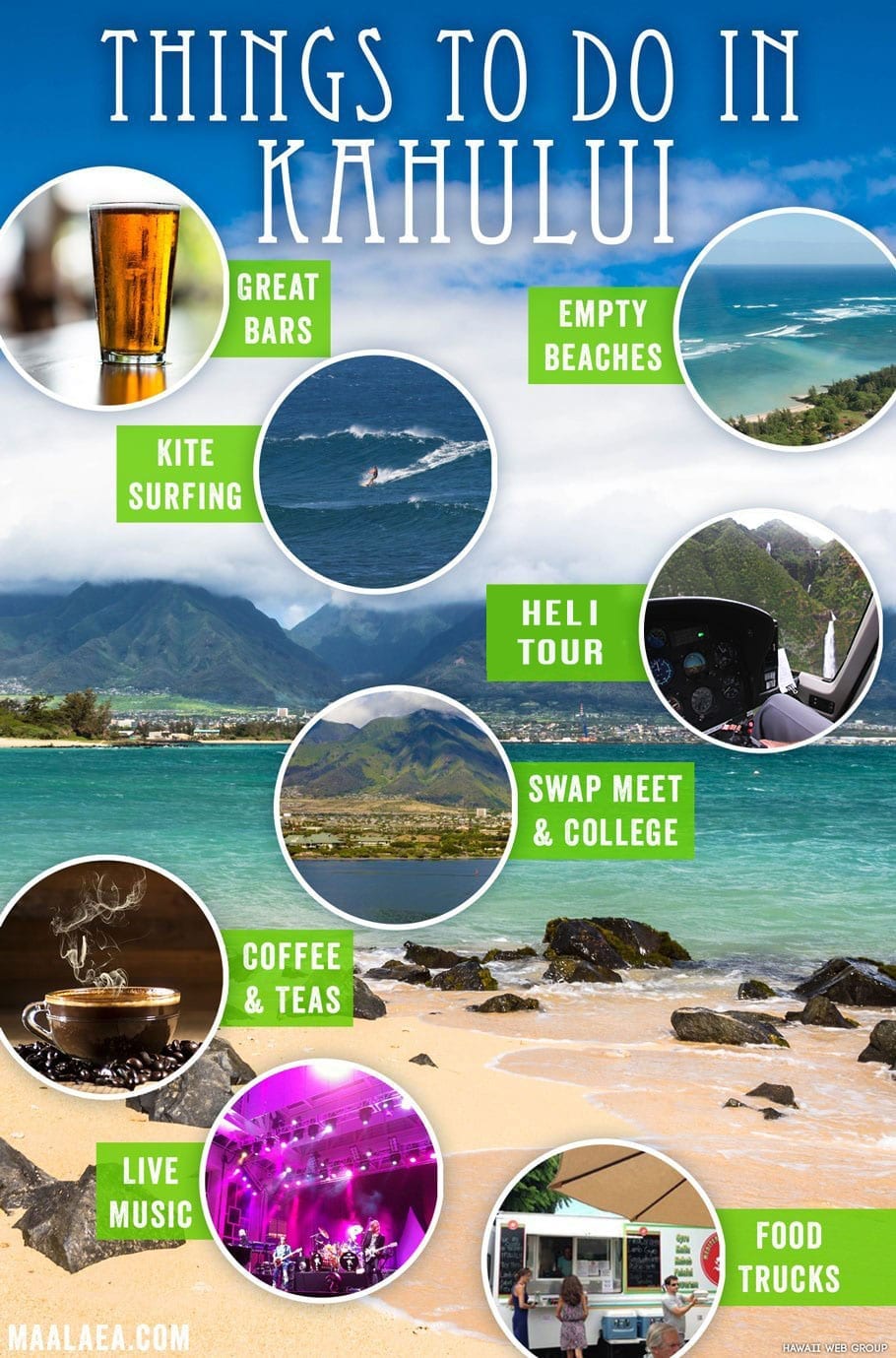 Bask
Kanahâ Beach Park might just be the coastal gem that missed a nod on Maui's most ubiquitous maps.
Tucked between Kahului Bay and the windsurf-wild Sprecklesville Beach, this 40-acre park boasts unbeatable views of green-glass water and notched sea cliffs. Home to the Lae'ula O Kai Canoe Club, Kanahâ also offers shade-generous trees and vistas of cartwheeling kite surfers. Pack a picnic, bring a book, and soak up the sun like someone solidly in the know.

Soar
From vertiginous cliffs to sultry rainforests, Maui brims with baffling natural beauty.
What better way to see it than from the clouds above? Maui helicopter tours take passengers to spots so secluded they can only be accessed by air. Launching from Kahului Airport, tours range from Hana and Haleakala to the mystical West Maui Mountains and the neighboring island of Molokai. State-of-the art equipment silences the blades so that you can kick back and be nothing but amazed.

Feast
While cruise ships dock in Kahului Bay, this town is, for the most part, out and out 808. Lucky for you, as the dearth of touristy spots translates into a hub of genuine ono eats.
When the food truck craze caught on in the islands, Maui Fresh Streatery took the helm. This bright red truck off of Kaahumanu could readily be considered portable gourmet: Kula-raised chef Kyle Kawakami uses his rural, Maui-boy roots to make specialties that range from calamari salad and chicken mahkani to spiced ahi and truffle fries.
Hole in the wall? Think again. The Ichiban Restaurant may be short on frills but it makes up for it in authenticity and flavor. Tonkatsu is a local fave, with the shrimp tempura coming in at a close second.
Prefer to be wined and dined? Bistro Casanova is an oasis of elegance in an area of industry. Centrally located in "town," this classy Italian eatery offers homemade gnocchi, farm-fresh salads, and sweet, luscious crepes. Hit up this spot after the heat of the day: Their fabulous tapas aren't served until 3.  Maui is home to many impressive Maui restaurants, but the food trucks have just as much to offer.

Speed
Kiteboarding made a serious splash in the mid-80s, when a pair of French brothers debuted an inflatable kite prototype at the Brest International Speed Week in 1985—right around the same time the son of a Boeing aerodynamicist was developing the KiteSki in Oregon. Fast forward a dozen-some years, when kite theorist Joe Keuhl rallied twenty-five watermen together for the first kiteboarding competition in the world. Held on Maui, it solidified the island's identity as the birthplace of this daring, dynamic sport.
Brave the waves with the best of 'em by enrolling in a course at the Kiteboarding School of Maui. Private lessons take both experts and newbies—and everyone in between—on an in-depth exploration of this innovative spin on surfing.

Browse
Big-box stores started popping up in Kahului in the late 90s, paving the way for what's now become a buzzing hub of commercialism.
Assuming you've perused your fair share of shelves at Target and Sports Authority, mosey over to Queen Kaahumanu Center. Mainland staples from Macys to Sears frame teeny-bop shops and shoe stores, but within all that homogeny you'll find the Maui Friends of the Library Bookstore. There, tomes on Hawaiian culture share space with New York Times bestsellers offered for a dollar. On the other end of the outdoor mall, The Foam Company features beachy getups and awesome accoutrements for boarders, while Blue Ginger sells keiki clothes so cute they'll give old standards a run for their money.
Revel
The Maui Arts and Cultural Center—otherwise lovingly known as the MACC—holds over 1,800 stellar events per year, with presentations ranging from Santana and hula to symphony and films.
The venue is a destination in its own right: Despite world-class acts from around the globe, its palm-studded grounds and ocean breezes never let you forget that you're squarely in Hawaii. Check the calendar for readings, concerts, and musicals. Or, spend an hour perusing its gallery, where local visual artists often have juried exhibits.

Savor
Given that Kahului is arguably Maui's core of business and activity, it ought to come as no surprise that it also houses one of the best coffee shops on the island. Maui Coffee Roasters steeps patrons in the aroma of artisan blends the moment they step through the door. Walls pay homage to Maui's eclectic art scene, while fresh-baked pastries and vegetarian dishes pair well with their rich, organic sips.
Tea more your, er, cup? Charming to a C, the Tea Box in Kahului's Maui Mall offers exceptional blends like Tumeric Ginger and Mango Peach. Splurge on a slice of fudge and ogle posters of Marilyn Monroe mid-sip.
Steal
We're joking, of course, but you will feel like a thief after taking a round through the Maui Swap Meet.
Set on the grounds of Maui Community College, this Saturday expo offers huge bargains on island-made crafts, baked goods, and fresh flowers. Come early to score the best loot and be sure to visit a local farm stand: Maui produce that's in its peak is nothing short of spectacular.

Sip
Cozy on up to the bar at Kahului Ale House, where ice cold beers are coupled with an aloha vibe. Ranked the best sports bar on the island for four consecutive years, this central venue offers live music, the happiest of hours, and a late night menu that'll make you feel like you're in your auntie's homey kitchen.
Those in a divey mood need to look no further than the Hang Loose Lounge on Dairy Road, an open-air biker bar that prides itself on being no-fuss. You can also get your tiki (drink) on at Koho's Grill & Bar, whose island roots go so far back its very existence feels like a novelty. Sit in the lounge and mingle with locals—this has been a go-to gathering spot since its start.
Feeling fancy? Backtrack to Bistro Casanova for a glass of vino, which is well-worth the extra mileage on your rental.